Phantom 4 Pro + Gimbal Motor Overloaded Issue
My new Phantom 4 Pro + started throwing the "Gimbal Motor Overloaded" warning message 6 minutes into a flight down south (Boranup Lookout). At that stage, it was only 2 weeks old, with only 1.5 hours total flight time.
After trying several things like restarting, recalibrating gimbal, IMU none of which removed the warning message. I contacted DJI support who informed me that I would have to send it in to be looked at.
DJI support has been pretty good, except for a small mix up with pick up and delivery address.
Can't replicate issue WTF?
Initially, the support centre informed me that they could not replicate the issue after both indoor and outside flight tests. They asked whether I had any other information or video to support my claim. I thought this was weird as every time I turned it on, even days after the initial event, every time I got the error. I sent them a link to the video I had put together – the next thing I know they send me the invoice below and said that it would need to go through QA before returning it to me.
DJI Invoice for repair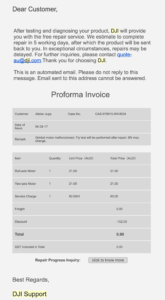 No Video, No Fix??
So if I didn't have the video what then? Glad I don't have to go through this scenario.
UPDATE – P4P+ Repaired
My P4P+ was returned – total time just over two weeks. Not too bad really!
Gear: