Aperture 3 Upgrade Issue
Being pretty excited about the latest release of Aperture, I downloaded and installed the trail version and bought the upgrade key as soon as I could. Shortly after upgrading my Aperture 2 Library I discovered that the Screen Saver and Desktop System Preferences no longer displayed Aperture Library to select from. WTF!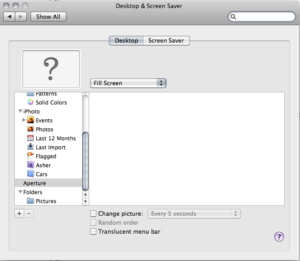 Anyway after much searching I figured that should rebuild the thumbnails and generate previews.
Not sure which one did the trick but most probably a worthwhile exercise to do both after upgrading.